Oil changes are a vital part of your regular Kia maintenance schedule, helping to prolong the life and performance of your vehicle. While the old rule of thumb was to change your oil every 3,000 miles, advances in automotive technology have upped that distance to 7,500 or even 10,000 miles, depending on your specific model. Consult your owner's manual for specific recommendations, adding the following considerations into the mix as well.
Oil Change Frequency Guidelines
While it's good to keep a general mileage range in mind for your oil changes, there are other factors that can affect how often you should change your oil. The road conditions and weather patterns in Bellevue, NE can bring more wear and tear to your vehicle, as well as your individual driving habits and style. If you frequently use your car for any of the following, you may need more frequent oil changes:
Heavy towing
Commercial use
Off-roading
Racing
What Happens When Your Car's Oil Isn't Changed?
Oil is your engine's life's blood, lubricating all the moving parts within the system. As oil ages, it begins to break down and build up contaminants, making it more difficult to perform. Eventually, a lack of fresh oil can lead to internal friction and overheating, resulting in costly service and repairs. If you notice any of the following, there's a good chance you are past due for oil change service in La Vista, NE:
Smoke emitting from the exhaust pipe
Check engine and/or oil change lights are illuminated
Dark and dirty oil
Engine overheating
Knocking sound coming from the engine
Luckily, many of these problems are preventable when you stick to your maintenance schedule. Visit our service center near Omaha, NE for fast, reliable oil changes you can count on!
More Oil Change Tips
Even if you don't drive your car often, you'll still need to perform regular oil changes. Whether it's being used or not, oil continues to deteriorate over time, making it less efficient when you decide to drive. Low mileage vehicles should still receive oil changes at least twice a year for safe driving. When you do get your oil changed, be sure to replace your oil filter as well for peak performance.
Curious about whether synthetic or conventional oil is best for your car? While synthetic oil can cost more, higher-performance vehicles or cars with higher odometers may require it. Check your owner's manual to be sure, or ask one of our certified technicians.
How Often Should I Check My Oil Level?
It's a good idea to check your oil level about once a month to familiarize yourself with the overall appearance. Any changes to your oil's color or consistency may mean it's time for a change, as well as noticeable metal particles within. Ignoring your oil is a surefire way to bring on future automotive issues, so stay on top of this crucial task to save yourself time and money later.
Turn to Edwards Kia for Oil Changes
Your car's performance and safety matter to Edwards Kia, which is why we offer a variety of service specials to make your next visit even more affordable. We're here to provide you with the service tips and tricks you need to get the most of your vehicle, so schedule your next service appointment with us for continued confident driving in Council Bluffs.
Service Specials at Edwards Kia
Edwards Kia
3134 S 9th Street, Council Bluffs, IA
Service: (712) 524-8249
cooling system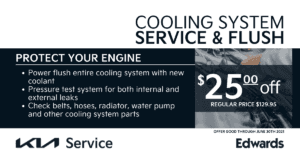 Edwards Kia
3134 S 9th Street, Council Bluffs, IA
Service: (712) 524-8249
alignment check