Keeping an eye on your new vehicle's safety and performance is the best way to get the most out of your car, which is why sticking to your Kia maintenance schedule is so important. Performing regular service tasks such as oil changes, tire rotations, and more will help you drive with confidence through Omaha, NE and beyond, knowing your ride has everything it needs to go the distance. Let's dig into the Kia service schedule and see what's next for your vehicle.
Standard Suggested Kia Maintenance Schedule
The Kia lineup offers an exciting variety of sedans, SUVs, hybrids, and more, each requiring specific services at different intervals. Following a maintenance schedule will help ensure all of your car's components get looked at over time, leaving no system unattended. The best way to access your particular Kia recommended service schedule is to consult your owner's manual, but in general, here are some basic guidelines you can expect:
7,500 Miles – Oil change, tire rotation, safety inspection
15,000 Miles – All of the above, plus engine air filter and cabin air filter replacement
22,500 Miles – All 7,500-mile services, plus brake pad and tire replacement, as necessary
30,000 Miles – All 15,000-mile services, plus brake fluid, transmission fluid, and coolant replacement
37,500 Miles – All 22,500-mile services, plus drive belt replacement
45,000 Miles – Identical to 15,000-mile service
52,500 Miles – Identical to 37,500-mile service
60,000 Miles – Identical to 30,000-mile service, plus replacement of timing belt and spark plugs, as necessary
Each of these milestones is subject to not only your specific Kia model, but also your driving habits and weather conditions in Bellevue, NE, which can affect the overall wear and tear on your model.
Monthly Kia Car Maintenance
Edwards Kia is here to handle the more complex maintenance tasks, but you can also perform at-home monthly checkups to familiarize yourself with how your Kia is running and what has changed over time. Keep your eye out for any of the following service indicators:
Check tire pressure and tread
Check to see if the check engine light is on
Clean the interior and exterior
Make sure windshield wiper fluid is filled
Make sure all the interior and exterior lights work
Why Follow a Kia Maintenance Schedule?
While scheduling service appointments every couple months may seem like an inconvenience, staying on top of your Kia maintenance schedule will actually help save you time and money in the long run. Many of the larger car failures are preventable, as regular care heads off breakdowns and mechanical issues. Spotting problems before they get worse can save you from a car that won't start or breaks down on the side of the road, and giving your Kia everything it needs will prolong its overall life. Save yourself the worry and headache of major repairs by following your service schedule.
Rely on the Service Department at Edwards Kia
Is your car ready for an oil change or tire rotation? No matter what your Kia needs, the service experts at Edwards Kia can help. We aim to take the guesswork out of service, which is why we're here with service tips and tricks and affordable service specials to keep you driving with confidence in La Vista, NE.
You can also visit Edwards Kia to see how the Kia performance stacks up against other vehicles, like the Kia Sportage and Hyundai Tucson. To get a head start, get a sneak peek at the 2021 Kia K5 interior to see how the new vehicle will upgrade your commute. Visit us to get more information on new and used car mileage and Kia key fob tricks as well as other maintenance tips. Contact us to get started!
Edwards Kia Service Specials
Edwards Kia
3134 S 9th Street, Council Bluffs, IA
Service: (712) 524-8249
cooling system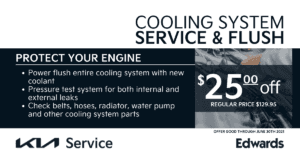 Edwards Kia
3134 S 9th Street, Council Bluffs, IA
Service: (712) 524-8249
alignment check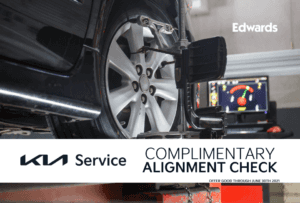 Edwards Kia
3134 S 9th Street, Council Bluffs, IA
Service: (712) 524-8249
Synthetic Oil Chage
Expires: March 31, 2023
10% off Synthetic oil change.